Chinook News
Stay current on Chinook Medical Gear's latest developments and announcements.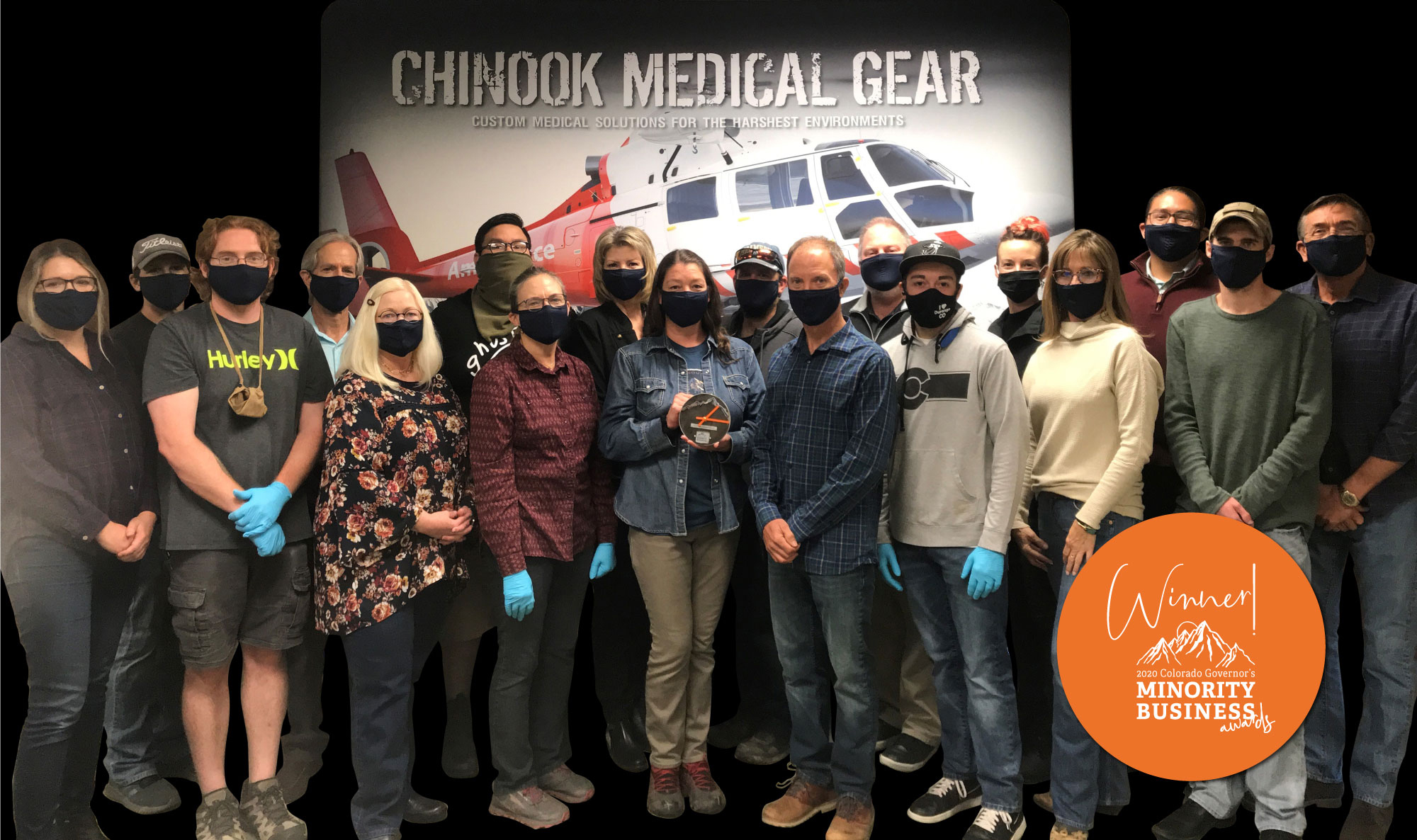 Durango, CO (December, 2020)
Chinook Medical Gear Honored for Contributing to Durango's Economic Diversity
Chinook Medical Gear is honored to be a winner of the 2020 Governor's Minority Business Award. Each year, Colorado's Minority Business Office honors for-profit businesses who have contributed to the economic diversity and success of minority communities in Colorado.
The award recognizes businesses across four categories and in four regions of the State. Recipients must be at least 51% owned by minorities, women, veterans, LGBTQ or disabled individuals. They must be a Colorado-based business in good standing with the Secretary of State and have a history of generating revenue for at least twelve months.

Durango, CO (February, 2019)
Chinook Medical Gear is now an 8(a) certified business
Altitude Technologies, Inc. dba Chinook Medical Gear, Inc. announces that the federal Small Business Administration has certified Chinook Medical Gear as an 8(a) Small Business, effective immediately. Chinook is already recognized as a Veteran-Owned Small Business (VOSB), and as being Native American-owned.
The 8(a) designation provides an important opportunity to federal government procurement Program Managers and Contracting Officers whose departments or agencies have committed to purchasing 23% of their procurement spend from small businesses, including 5% from 8(a) small businesses. In addition, government entities purchasing from qualified 8(a) small businesses are able to sole-source purchases of up to $7 million without having to obtain multiple bids.

Durango, CO (February 12th, 2019)
Chinook Medical Gear, Inc. announces New Advisory Board Member
Chinook Medical Gear announced today that Stephen Wolfe, D.O. has joined their Board of Advisors. Dr. Wolfe is an Emergency Medicine physician with a career spanning multiple disciplines, from Navy Seal and Air Force Pararescueman, to medical researcher and now EMS Director at a Level II Trauma Center, in addition to being a Law Enforcement SWAT Medical Director.
Dr. Wolfe is a 2015 graduate of Midwestern-AZCOM in Glendale, Arizona. He had substantial EMS and military experience prior to medical school, serving as an Air Force Pararescueman (PJ) with the Alaska Air National Guard for 11 years. In this role, he maintained parachute, dive, flight crew, and EMT-Paramedic certifications to conduct pre-hospital field medical care. He performed multiple combat search and rescue missions during deployments to Afghanistan and Kuwait.